The Rosary Converts Protestant Pastor To Happy Catholic
by Barbara
(Ann Arbor, Michigan)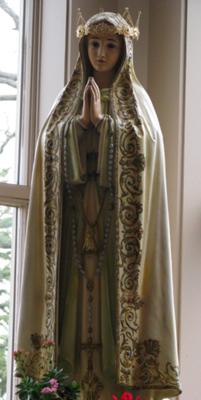 This the Mary at Christ the King in Ann Arbor- My new church!
I was a third-generation pastor in a protestant church. I grew up in a very anti-Catholic family.


When I was 57 years old, I received a rosary in the mail because of a donation I made to a charitable organization, not knowing they were Catholic. I thought those beads were like a Catholic Ouija Board and was afraid to have the rosary in my house for fear of offending God.
But I became curious and asked God to show me if these beads were, in fact, evil. I was reading the instructions on how to pray the Rosary on the internet and a powerful, distinctly female presence came into the room and spoke three things to my spirit:
1. You don't know me but I have always known you.
2. I know everything about you. (But not in a condemning way).
3. I love you.
You could almost reach out and touch the love in the room, it was so strong. I have NEVER felt so loved in my life, even though I have had many precious times with Jesus in prayer.
I began to pray the rosary regularly and asked Jesus to help me with all the doctrinal differences I had with the Catholic church. All my questions have been answered, and I came into the Church this year, at age 59.
I know Mary has had me by the hand since I was baptized at age 9 and has used many things to bring me into the true church, chiefly, the Rosary.