Support Group Needs Rosaries, Spiritual Supplies
by Joseph
(Derby, Derbyshire, England)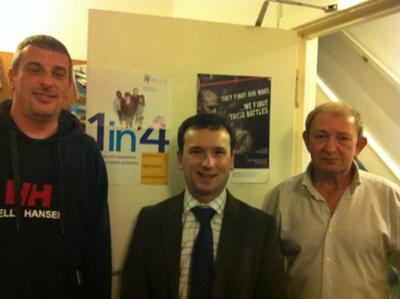 A picture of me and two members
To whom it my concern,


I run a small rehabilitation group in my humble home town of Allstree, Derbyshire, England. Recently the Lord has blessed us with more willing participants ready to free themselves of the demons who once possessed them.
Our local parish does not deem us a suitable enough group to squander there funds on so I'm humbly requesting your help. I would love to be able to give each member of the group their own Rosary beads, prayer cards and picture of our Lord, Jesus Christ.
There are 12 people in the group at this moment.
God willing, you will help me.
POSTAL ADDRESS:
Joseph
11, FINDERN CLOSE
ALLESTREE
DERBY
DERBYSHIRE
DE22 2RJ
ENGLAND
Join in and write your own page! It's easy to do. How? Simply click here to return to Request Free Rosary Resources.
Please, help this site
continue running by donating
$5, $10 or $20