Prayers Answered! A Confraternity Of The Holy Rosary Established In Indianapolis Parish
by Jerald Franklin Archer
(Indianapolis, Indiana USA)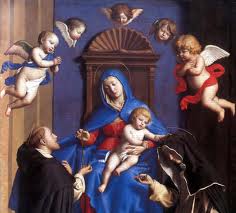 On Sunday, November 7, 2010, Our Lady of the Most Holy Rosary Parish, located in Indianapolis, Indiana, officially established a Rosary Altar Society in the parish, using the Solemn Form.


This parish offers both the Ordinary and Extra Ordinary Versions of the Holy Sacrifice of the Mass with great success and is a model of perfect unity that all parishes should strive to imitate today, but sadly this is not always the case. The establishment of the Confraternity is an outward sign of great devotion to Our Lady and Her Rosary within the parish.
Please pray for this parish that it may continue in it's promotion of the Holy Rosary and do the work that Our Lady instructed us to do--to pray and promote the Holy Rosary in order to fight all evils in the world. Victory is only achieved through prayer and work. Working together increases that certainty.
http://www.holyrosaryindy.org
Joining and promoting The Confraternity of the Holy Rosary is a great way to promote the Rosary and the message of Our Lady in these turbulent times. Please visit their site to find out more information as to how to establish a Rosary Altar Society in your own parish.
For more official information visit:
http://www.rosaryconfraternity.org
Pray the Rosary everyday. Wear the Brown Scapular.
In Jesus through Mary,
Jerald Franklin Archer
Please, help this site
continue running by donating
$5, $10 or $20