My Society Needs Supplies
by STEPHEN ANDERSON
(TAKORADI-GHANA)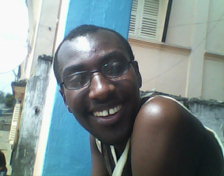 Dear Leader in Christ,
Am a young seminarian and a member of the catholic youth organization at my church. We sincerely need you to help the organization to build up firmly in Christ Jesus, I will be happy if you can send me some prayer books and hundred rosaries to the society.
May the Good Lord who has given you the idea of helping people build their faith,help you to over come all difficulties.This is my address bellow
STEPHEN ANDERSON
ST. JOHN'S THE BAPTIST CATHOLIC CHURCH
POST OFFICE BOX 1410
TAKORADI-GHANA
WEST/AFRICA.
Thank you.
Join in and write your own page! It's easy to do. How? Simply click here to return to Request Free Rosary Resources.
Please, help this site
continue running by donating
$5, $10 or $20