My Church People Requesting Rosary Beads To Pray
by Bro. Kiran Kumar Jujjavarapu
(India)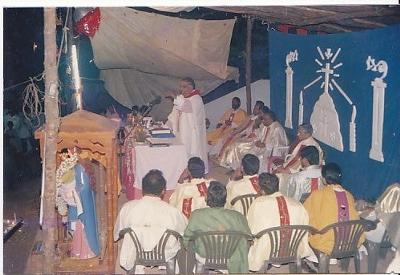 Dear Organization,


First, Let my lips say thanks when its found the opportunity of getting free rosary beeds on begining Christmas of decade 2011.
I Bro. Kiran Kumar Jujjavarapu would like to introduce my self as youth minister in ST.PAULS EDUCATIONAL SOCIETY, which is educating street children around 300 a year. This organization is basically working for woman child & young Education in India. We are on good success from our dedicated young staff. Daily they are in praying (without rosary beeds) MOTHER MARY to their righteous future from their righteous organization.
Additional to this, We have 10 local substations under the parish work. Each sub-station may contain 100-150 sheep of the lord. We are feeding them by faith, and word which was given to us. These sheep are very intense in pray of Mother Mary at her holy rosary.
We here on humble and confidently requesting you to send free Rosaries to the said lamb and sheep. We would like to feed them from the energies of Holy Rosary ( John: 21 : 15-18) .Expected rosaries to receive are 300-400
Thanking you for great consideration
Our contact for communication:
BRO. KIRAN KUMAR JUJJAVARAPU
ST.PAULS EDUCATIONAL SOCIETY
GUNNAMPALLY
BHIMADOLE
WEST GODAVARI
ANDHRA PRADESH - INDIA - PIN 534425
MOBILE: +91-9849206560
MAIL: kirans11paul@gmail.com
Join in and write your own page! It's easy to do. How? Simply click here to return to Request Free Rosary Resources.
Please, help this site
continue running by donating
$5, $10 or $20