Large Quantity Of Rosaries Needed For Parish Youth
by Fr. Harry Mang'anda
(Malawi, C. Africa)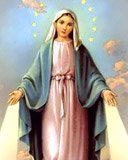 Ordination pic
Hello, I am Fr. Harry Mang'anda from Mangochi Diocese in Malawi. I am 33 and responsible of looking after kids and youth in my parish. Amongest the activities we are already endulged in is the Praying of the Rosary. With Martin de Porress as the patron saint of the parish, the parish takes the rosary as a prominent devotion. in this the youth aren't spared.


I write to request for assistance of supplies of rosaries time and again to 3000 youths who are part and parcel of the immaculate devotion
my address:
Fr. Harry Mang'anda
Mangochi Diocese
P.O. Box 44
Mangochi
Malawi
C. Africa
Join in and write your own page! It's easy to do. How? Simply click here to return to Request Free Rosary Resources.
Please, help this site
continue running by donating
$5, $10 or $20