Jesus I Trust In You!
by The Rosary Team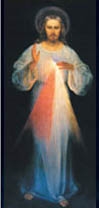 Divine Mercy Image
In the Divine Mercy Image, Jesus instructed St. Faustina to have the verse, "Jesus I trust in You" inscribed near the bottom. This prayer has profound meaning and it fulfills the "C" of the ABC's of Mercy: "Completely trust in Jesus." This is obviously not a new concept to Catholicism, but Jesus nevertheless wanted to reemphasize the need for deeper faith in Him.

The fruit of the Resurrection, the First Glorious Mystery is faith. The Resurrection is the cornerstone of faith in Jesus Christ. When He rose from the dead He fulfilled His promises and proved that He is indeed God.

Jesus foretold He would rise again many times during His public life during His public life. Here are two such examples from St. John's Gospel:

"I lay down my life, that I may take it again. No man taketh it away from me: but I lay it down of myself, and I have power to lay it down: and I have power to take it up again." - John 10:17-18

"Jesus answered, and said to them: Destroy this temple, and in three days I will raise it up." -John 2:19

As horrible and terrifying as the events of Good Friday may have been, the splendor and radiance of Easter Sunday sustained the faith of Jesus' followers at that time and should continue to sustain your faith during our time. Because Jesus loves you and is faithful to His promises, you can put your complete trust in Him.
Join in and write your own page! It's easy to do. How? Simply click here to return to First Glorious Mystery Rosary Meditations.
Please, help this site
continue running by donating
$5, $10 or $20