It Is Consummated
by The Rosary Team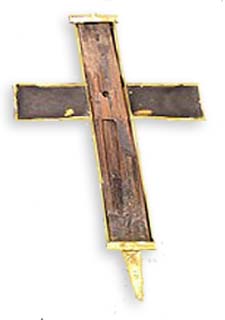 Relic of the True Cross of Jesus
Our Lord's Passion was completed during the Crucifixion. Jesus spoke the words,

"It is consummated" -John 13:29

It is accomplished. Jesus' primary mission on earth was completed. He came to make reparation for the sins of man and it was when He died on the cross that he accomplished this mission. What agonies Our Lord suffered for each one of us individually. He suffered His Passion for your sins and for my sins. He opened the gates of Heaven so that all who would believe in Him and keep His Commandments could enter eternal life with God in Heaven.

After Jesus "gave up the ghost" and expired. A centurion took a lance and pierced Our Lord's Sacred Heart. Immediately His Precious Blood and water gushed forth spilling His Divine Mercy out upon the world. Jesus shed all His Precious Blood for our sins.

Ejaculations are short prayers to say often. In addition to meditating on this mystery of the Rosary, it is good to get in the habit of saying this prayers often throughout the day...

Most Sacred Heart of Jesus, have mercy on us.

For the sake of His sorrowful Passion, have mercy on us and on the whole world.

Blood of Christ, inebriate me.
Join in and write your own page! It's easy to do. How? Simply click here to return to Fifth Sorrowful Mystery Rosary Meditations.
Please, help this site
continue running by donating
$5, $10 or $20