In Need Of Two Rosaries
by Anna Kasper
(Dunfermline, IL)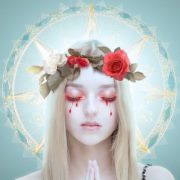 This photo reminds me of a crying mother Mary because the world continues to fail to listen.
I would like two Rosaries, one for someone dear to me that just got out of prison and the second one for myself. Thank you.


Anna Kasper
PO Box 134
Dunfermline, IL 61524-0134
Also, I ask for prayers too. I was the victim of a hit and run accident and seriously injured (head injury and two herniated discs in neck and other injuries as well) when I was hit from behind by a drunk driver and was run off road into ditch and fence where I was left unconscious until campers found me.
I live in a rural area and it was at night and very dark on that highway with not much traffic around.
Thank you for your prayers and God bless you.
Join in and write your own page! It's easy to do. How? Simply click here to return to Request Free Rosary Resources.
Please, help this site
continue running by donating
$5, $10 or $20