In Honor Of His Feast Day - Aug. 4, 2010
by The Rosary Team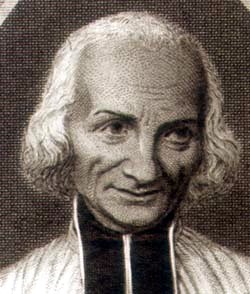 "The interior life is like a sea of love in which the soul is plunged and is, as it were, drowned in love. Just as a mother holds her child's face in her hands to cover it with kisses, so does God hold the devout man."


"The eyes of the world see no further than this life, as mine see no further than this wall when the church door is shut. The eyes of a Christian see deep into eternity."
"Love of our neighbor consists of three things: to desire the greater good of everyone; to do what good we can when we can; to bear, excuse, and hide other's faults."
"We must never lose site of the fact that we are either saints or outcasts, that we must live for heaven or for hell: there is no middle path in this. You either belong wholly to the world or wholly to God. If people would do for God what they do for the world, what a great number of Christians would go to heaven."
"You must accept your cross; if you carry it courageously it will carry you to heaven. God commands you to pray, but he forbids you to worry."
"The more we pray, the more we wish to pray. Like fish which at first swims on the surface of the water, and afterwards plunges down, and is always going deeper; the soul plunges, dives, and loses itself in the sweetness of conversing with God."
"...When Our Lord sees pure souls coming eagerly to visit Him in the Blessed Sacrament he smiles on them. They come with the simplicity that pleases Him so much"
"To decorate the houses with religious pictures is a custom as old as Christianity itself, for a true Christian has always considered his home as nothing less than a Temple of God, and the religious pictures as means to extend and preserve the spirit of Christianity in the home."
"Our home is--Heaven. On earth we are like travelers staying at a hotel. When one is away, one is always thinking of home."
"Mary seeks for those who approach her devoutly and with reverence, for such she loves, nourishes, and adopts us as her children."